[Product Description]
♦ About Red Ginseng
Red ginseng is made through the process of steaming with it is feel intact and drying it to make it is moisture content to less than 15% . During the process , the color of ginseng becomes reddish brown and the texture becomes very hard .
It is difficult to keep ginsengn as fresh ginseng for a long time for it has aroung 75% of moisture content .
It is likely to be decomposed by microbes or its won enzymes during the distribution , which will reduce reduce its vales as a product .
Through processing and drying of ginseng , red ginseng is made to prevent the pollution from germs , molds and microbes and reduce the volume and weight in order to make it easier to store and transport The development of measurement and quality management of saponin , ginseng is effectual component made it possible to minimize the decomposition of saponin during the processing .
In addittion , effectual compoents such as maltol and G-Rh2 are also produced in addition to saponin .
In order to enhance the convenient of application and fulfill the preference of customers various red ginseng products are being developed and processing methods are being diversified .
Depending on the quality of red ginseng , it is classified into five different grades including Chonsam , Jisam , Yangsam , Julsam and Misam , Various kinds of red ginseng products are being produced to meet the different tastes and preference . Red Ginseng is the representative Korean health supplement
that has various function .
♦ Korean Red Ginseng Extract Characteristic
Strict quality selected 6-Year rooted Korean Red Ginseng is extracted and concentrated to intake of consumers and make it easier to intake it . It is health supplement which is produced through strict quality management !
♦ Raw material name and content
6-Year old rooted Ginseng ( Red Ginseng Root : more than 70mg/g , solid powder : over 60%) 100%
Korean material .
Mixture ratio of Korean Red Ginseng : Red Ginseng Root 70% , Red Ginseng fine roots 30% .
♦ Efficacy of Red Ginseng
Vigor recovery , Fatigue recovery , Boost immunity , Blood circulation improve , Improve memory!!
♦ How to eat
One day twice eat and mix 1 teaspoon (1g) in hot water or cold water for 1 teaspoon or just eat .
Drinking water substitute case storage refrigerator , add 10g of Red Ginseng Extract to 1 Liter of water and drink after dilution .
Take it eat children under the age of 10 are under the age of one or less of the adult intake of adults and about half of those under 15 years old .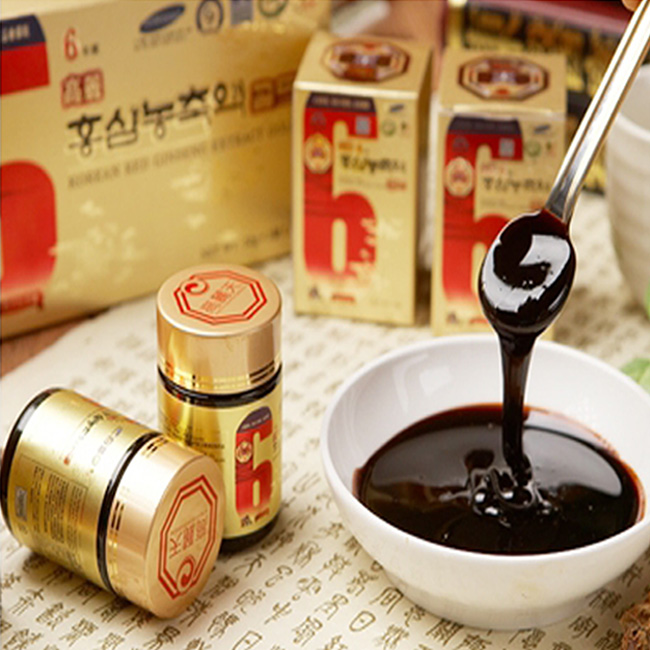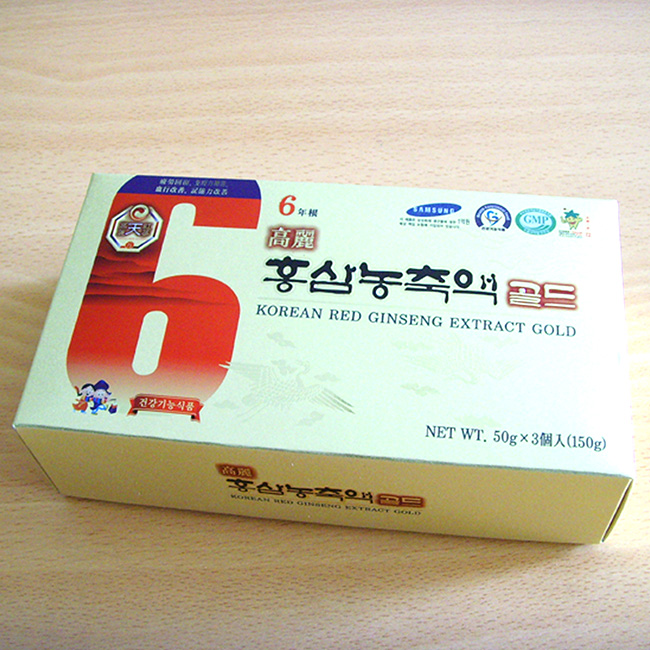 [Product Features]
Efficacy of Red Ginseng
Vigor recovery , Fatigue recovery .
Boost immunity , Blood circulation
improve . Improve memory .
[Product Specification]
- 6-Years Red Ginseng Extract
(Red ginseng ingredient 70mg/g more than , solid content 60% more than )
100% production in Korea
[Product Others]
- Raw materials Red ginseng
compounding ratio : red gins